DL-410KA
Description
DL-410KA tray sealing equipment is a kind of tray food sealer. Double startup safety switch is adopted to guarantee operator safety. The whole automatic packing process can be completed by just pressing the start switch.
Application of Tray Food Sealer
DL-410KA tray sealing equipment is applicable to fresh-keeping packaging of all types of boxed fresh, cooked food, such as cool fresh meat, cooked meat products, fast food, pastry, rice noodle, cheese, soy products, aquatic products, poultry and other boxed foods.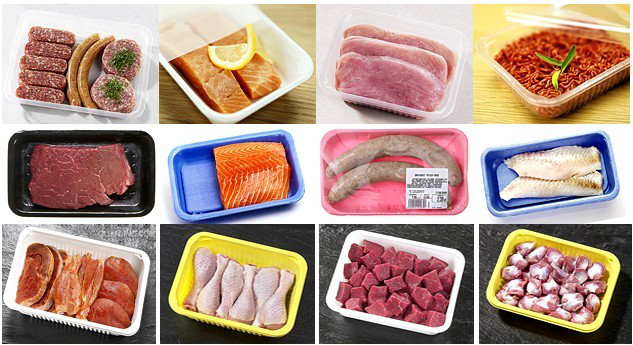 Technical Characters of Tray Food Sealer
1. Control System: OMRON PLC programmable control system. The data setting and motion control are accurate and the performance is reliable, so the operation is easier.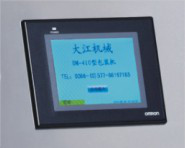 2. Pneumatic System: SMC pneumatic elements.
The quality of the sealer tray equipment is stable and reliable. Frequent equipment failures, suspension of work and other quality accident caused by component quality can be avoided.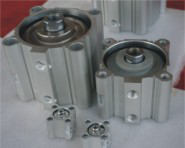 3. Main Structure Material: Regarding to the main structure material, tray sealing equipment adopts 304 Stainless Steel, which is safe and easy to clean.
4. Easily replaceable of sealing mould: Different size of the trays is available according to different requirements.
5. Work status indication
Tray sealing equipment uses an operating program status and failure real-time display function to monitor the equipment and ensure the normal operation.
6. Packing executive system
The totally enclosed packing executive system is isolated from the operator to completely eliminate the potential hazard in the packing process.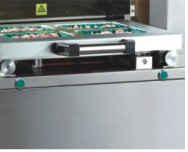 7. Automatic conveying system: special stainless steel conveying system is adopted. It's safe, healthy, reliable and more convenient to clean.
8. Emergency stop switch
Tray sealing equipment is equipped with an emergency stop switch which can be pressed in case of abnormal condition to terminate all ongoing work programs and guarantee the safety of equipment and personnel.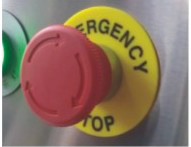 9. Heavy duty casters: Universal caster wheels with brake function are mounted at the bottom of the equipment for users to move and fix the sealer.
10. The microcomputer programmable controller and man-machine interface touch-screen control system are used in the tray food sealer.
Technology Specification
| | |
| --- | --- |
| Model | DL-410KA Tray Sealing Equipment |
| Packaging Tray Dimensions(mm) | 490 × 290 × 80 |
| Max Width of Film(mm) | 500 |
| Max Diameter of Film(mm) | 300 |
| Packaging Speed(time/m) | 6 to 8 |
| Electrical Requirement | 1P/220V/50HZ |
| Working Pressure(MPA) | 0.6 to 0.8 |
| Consume Power(kW) | 2.0kW |
| Machine Weight(Kg) | 600 |
| Machine Size(mm) | 2800 × 1030 × 1500 |
Die Plates Available Format

Related Products
DZ-400-2SFDZ-400-2SF double chamber machine is applicable to vacuum packing of food, medicine, marine food, chemical product and electrical product.
DZ-400NDZ-400/N table top chamber vacuum packaging machine is being digitally controlled. The small footprint systems of the machine means a kitchen or a deli is allowed to pack vacuum products with a