DZ-350MS
Machine Description
DZ-350/MS table top vacuum packing machine (vacuum packing equipment) uses microcomputer control system which is used for setting precise and stable parameter of packaging.
Application
This vacuum packing equipment is widely applied in vacuum packaging of various food, medicine, electrical product and chemical product.
Functions of Table Top Vacuum Packing Machine
1. Depending on the product, the shelf life of vacuum packaged products can exceed normal bagged or wrapped packages. Beef can last up to six weeks refrigerated, and much longer when frozen.
2. The vacuum packing equipment retains freshness and original flavor of the food.
3. In an oxygen-depleted environment, anaerobic bacteria can proliferate, potentially causing food-safety issues. Vacuum packing is often used in combination with food processing techniques
4. It is available for special applications such as electrical product and chemical product.
Technical Characters of Table Top Vacuum Packing Machine
1. Microcomputer control system is used for setting precise and stable time of vacuuming and sealing according to different packing materials and packing requirements, which is easy to operate.
2. The main structure of the vacuum packing equipment is made of 304 Stainless Steel to ensure its elegant appearance as well as the anticorrosion in harsh caustic environment.
3. The "V" shaped chamber lid gasket is made of high-density material, which ensures sealing performance.
4. Service life of sealing tape can be extended by using compressed and wearing resistance material, and change frequency can be also reduced.
5. The vacuum chamber is bright, clean, spacious and easy to clean.
6. The special labor-saving hinges on the lid markedly reduce the labor intensity of operator in daily work, so they can handle it with ease.
Technology Specification
| | |
| --- | --- |
| Model | DZ-350/MS Vacuum Packing Equipment |
| Machine Dimensions(mm) | 560 × 425 × 490 |
| Chamber Dimensions(mm) | 450 × 370 × 220(170) |
| Sealer Dimensions(mm) | 350 × 8 |
| Vacuum Pump(m³/h) | 20 |
| Power Consumption(kW) | 0.9 |
| Electrical Requirement(v/Hz) | 220/50 |
| Production Cycle(times/min) | 1 to 2 |
| Net Weight(kg) | 58 |
| Shipping Dimensions(mm) | 610 × 490 × 530 |
Sketch Map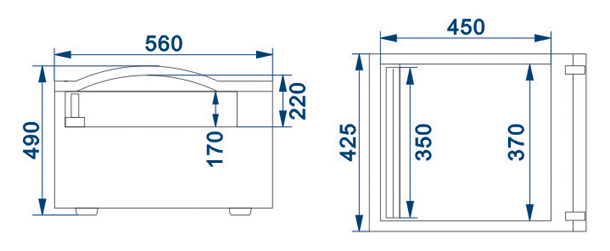 Related Products
DZQ-800LDZQ-800L external chamber vacuum sealers uses microcomputer control system for setting precise and stable parameters of all packing.
DZ-400-2SFDZ-400-2SF double chamber machine is applicable to vacuum packing of food, medicine, marine food, chemical product and electrical product.