DM-410B
Description
DM-410B floor type map tray sealing equipment uses totally enclosed vacuum replacement method to conduct food atmospheric fresh-keeping packing. Namely in the totally enclosed vacuum chamber, making a high vacuum degree with vacuum pump, and then filling the gas for preservation of food.
Application of Modified Atmosphere Packaging Machine
DM-410B floor type map tray sealing equipment is applicable to controlled atmosphere fresh-keeping packing of cool fresh meat, cooked meat products, fast food, pastry, rice noodle, cheese, soy products, aquatic products, poultry and other foods.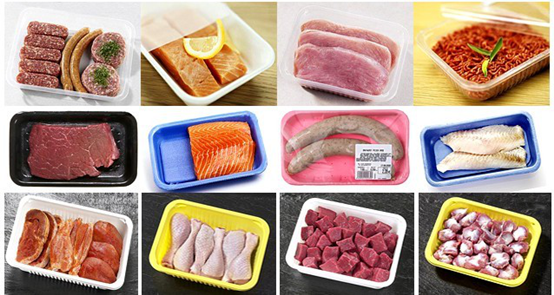 Technical Characters of Modified Atmosphere Packaging Machine
Control System: OMRON PLC programmable control system.
The data setting and motion control are more accurate and the performance is more reliable, so the operation is easier.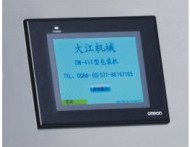 2. Electric System: France Schneider electric elements is equipped with long service life and high applicability to assure reliable quality.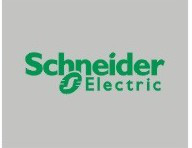 3. Pneumatic System: SMC pneumatic elements.
The quality of the floor type map tray sealing equipment is stable and reliable, and its service life is long. Equipment failures, suspension of work and even other quality accident caused by component quality can be avoided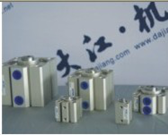 4. Vacuum System: Germany BUSCH vacuum pump (high oxygen vacuum pump) is equipped with high vacuum degree and long service life to assure reliable quality.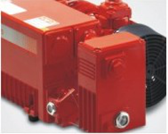 5. Structure Material: Regarding to the main structure material, the floor type map tray sealing equipment adopts 304 Stainless Steel, which is safe and easy to clean.
6. The Germany WITT gas mixer adopts real-time gas mixing, which accuracy is higher than ± 1%. The quality of food packing of each box is guaranteed to be always consistent. The preservation period of the packed food are controlled effectively.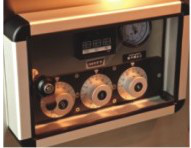 7. Easy replaceable of sealing mould: Different size of the trays is available according to different requirement.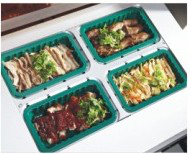 8. Work status indication: the floor type map tray sealing equipment has an operating program status and failure real-time display function to monitor the equipment and ensure the normal operation.
9. Gas detection method: precise gas detection means
Germany WITT gas analyzer is used for testing the gas within the food keeping period to ensure the equipment reaching the specified precision.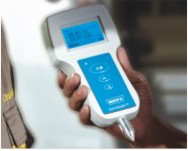 10. Safety start button: The security measures of the floor type map tray sealing equipment only can be started by simultaneous operation of both hands, which effectively prevents security incidents caused by malfunction of the operator.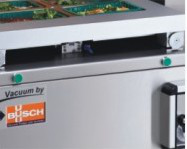 11. Emergency stop switch:
Modified atmosphere packaging machine is equipped with an emergency stop switch which can be pressed in case of abnormal condition to terminate all ongoing work programs and guarantee the safety of equipment and personnel.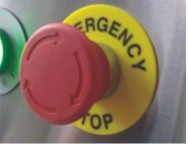 12. Heavy duty casters: Universal caster wheels with brake function are mounted at the bottom of the equipment for users to move and fix the floor type map tray sealing equipment.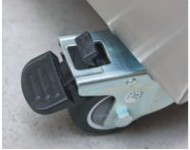 13. The totally enclosed vacuum chamber gas replacement technology is used to guarantee the high replacement rate (replacement rate ≥ 99%).
14. Gas displacement system can minimize the residual oxygen content within the packing pallet and effectively guarantee the mixing precision of the mixed gas within the food packing pallet.
15. User can effectively control the storage, logistics and sales time of the packing, and prolong the shelf life accordingly.
Technology Specification
| | |
| --- | --- |
| Model | DM-410B Floor Type Map Tray Sealing Equipment |
| Packaging Tray Dimensions (mm) | 490 × 310 × 80 |
| Max Width of Film(mm) | 430 |
| Max Diameter Of Film(mm) | 260 |
| Packaging Speed(time/m) | 2 to 3 |
| Electrical Requirement | 3P/380V/50HZ |
| Working Pressure(MPA) | 0.6 to 0.8 |
| Consume Power(kW) | 5.5kW |
| Pump | 100 m³/h |
| Air Exchanging Rate (%) | ≥99 |
| Air Filling Concise (%) | ≥1 |
| Machine Weight(Kg) | 480 |
| Machine Size(mm) | 1200 × 1150 × 1520 |
Proper Dimensions Trays for DM-410B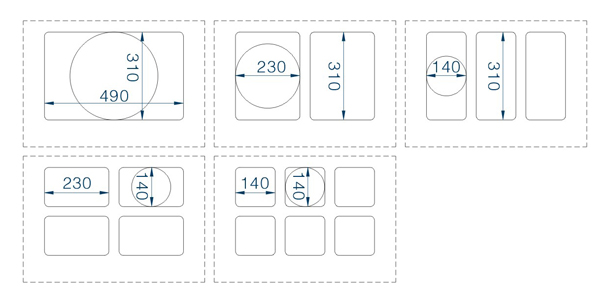 Related Products
DT-7DT-7 table top tray sealing machine is widely applicable to the package of ready meals, fresh and cooked meats, fish vegetables. It is typically found in supermarket, local butchers and grocers.
DZ-500-2SDZ-500-2SB double chamber vacuum sealer is applicable to vacuum packing of various food, medicine, marine food, chemical product and electrical product.