DZ-650L
Machine Description
DZ-650/L vertical vacuum sealer uses microcomputer control system and is used for setting precise and stable parameters of vacuuming and sealing. Be designed to be standard products, vertical type vacuum packaging machine ready to meet the client's requirement to manufactured different size and shape.
Scope of application of Vacuum Sealing Equipment
DZ-650/L vertical vacuum sealer is applicable to vacuum packing of food, medicine, marine food, chemical product and electrical product, powder products and granule product.
Technical Characters of Vacuum Sealing Equipment
1. The vacuum lid is made of stainless steel with, which features good appearance, excellent sealing, and high mechanical strength.
3. Equipped with high efficiency vacuum pump, lower noise and big capacity, our vertical vacuum sealer works steadily and reliably.
3. The "V" shaped chamber lid gasket is made of high-density material, which ensures sealing performance.
4. Service life of sealing tape can be extended by using compressed and wearing resistance material, and change frequency can be also reduced.
5. The adjustable heavy-duty food on the bottom of machine ensures machine running smoothly.
6. The vacuum lid is made of stainless steel, which is solid and durable.
7. Vertical vacuum sealer is designed of vertical move of vacuum lid, which is running smoothly and stable operation.
8. Vacuum sealing equipment will be proceed automatically in the operation of vacuuming, sealing and cooling after close the lid.
Technology Specification
| | |
| --- | --- |
| Model | DZ-650L Vertical Vacuum Sealer |
| Machine Dimensions(mm) | 1120 × 850 × 1230 |
| Chamber Dimensions(mm) | 685 × 440 × 590 |
| Sealer Dimensions(mm) | 650 × 8 |
| Vacuum Pump(m³/h) | 45 |
| Power Consumption(kW) | 1.1 |
| Electrical Requirement(v/Hz) | 380/50 |
| Production Cycle(times/min) | 1 to 2 |
| Net Weight(kg) | 243 |
| Shipping Dimensions(mm) | 1270 × 1060 × 1420 |
Sketch Map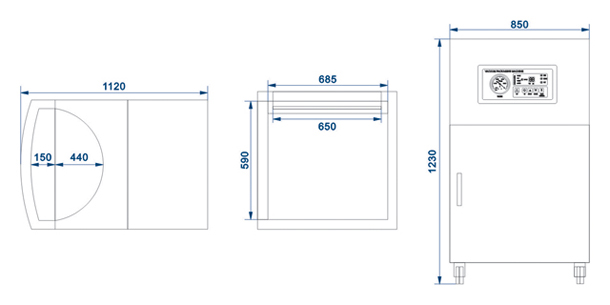 Related Products
DT-7DT-7 table top tray sealing machine is widely applicable to the package of ready meals, fresh and cooked meats, fish vegetables. It is typically found in supermarket, local butchers and grocers.
DZ-400-2EDZ-400/2E floor type vacuum sealer is applicable to meat, sauce, spices, dried fruit, bean products, chemical products, medicine granule, liquid etc.